Public Safety
Number one priority is the safety of our community…always has been and always will be. With property crimes in California and Whittier increasing, many people in Whittier have personally experienced...
Uptown
Uptown continues to grow and prosper with new restaurants and shopping opportunities coming our way. This new year has already ushered in the openings of Poet Gardens...
Traffic
We all have felt it…it seems like traffic in Southern California is up and more congested than ever and Whittier is no exception. It is a major concern of the Mayor and we have...
The Groves of Whittier
The Groves of Whittier (formally Nelles) construction is well underway. I am pleased to report that substantial progress has been and is being made. 
Homelessness
Whittier Homelessness:  When it comes to homelessness in California, cities and counties throughout the state are busy mopping up the deluge.
Library
As a kid, I remember giving my book reports at the Whittier Central Library to volunteers as part of the Summer Reading Club which still exists for this current generation of children.
Whittier has been the HOME to three generations of Vinatieri's. Joe was born and raised in Whittier, attended Whittier schools and is a partner at the Whittier law firm of Bewley, Lassleben and Miller. Joe and his recently deceased wife, Sandy, are proud parents of three married children: Sarah, Joe and Susanna who attended some of the same Whittier schools as their father.
Our City Government Has Changed
In 2016 Whittier embarked on a bold new experiment—directly electing a Mayor citywide; and electing four council members by district. We are nearly four years into this transition and on March 3rd, 2020 we will again elect our Mayor and two council members in districts 1 and 3. This new system changed 118 years of history and tradition in Whittier and all of us who have voted for decades in our city elections must get accustomed to these changes. On top of these changes, earlier this year your city council voted to move our city elections to California's Primary Election date. This change in date saves the city nearly $300,000 but might cause confusion as the local polling places have vanished and 2 or 3 "vote centers" in Whittier will be open for 10 days leading up to March 3rd. Those choosing to use a "vote center" will need to pre-mark their voter ballot pamphlet and then vote that guide at the voter center by touching the electronic touch screen corresponding to the pre-marked choice in the voter ballot pamphlet. February 25, 2020 is the last day to register to vote by mail and this vote option is certainly looking like the easiest way to vote by marking the ballot and sending in the vote by mail ballot. Many residents are rightly concerned about how these changes will affect the future leadership and values of our community. Find out more here: https://www.lavote.net.
Whittier Homelessness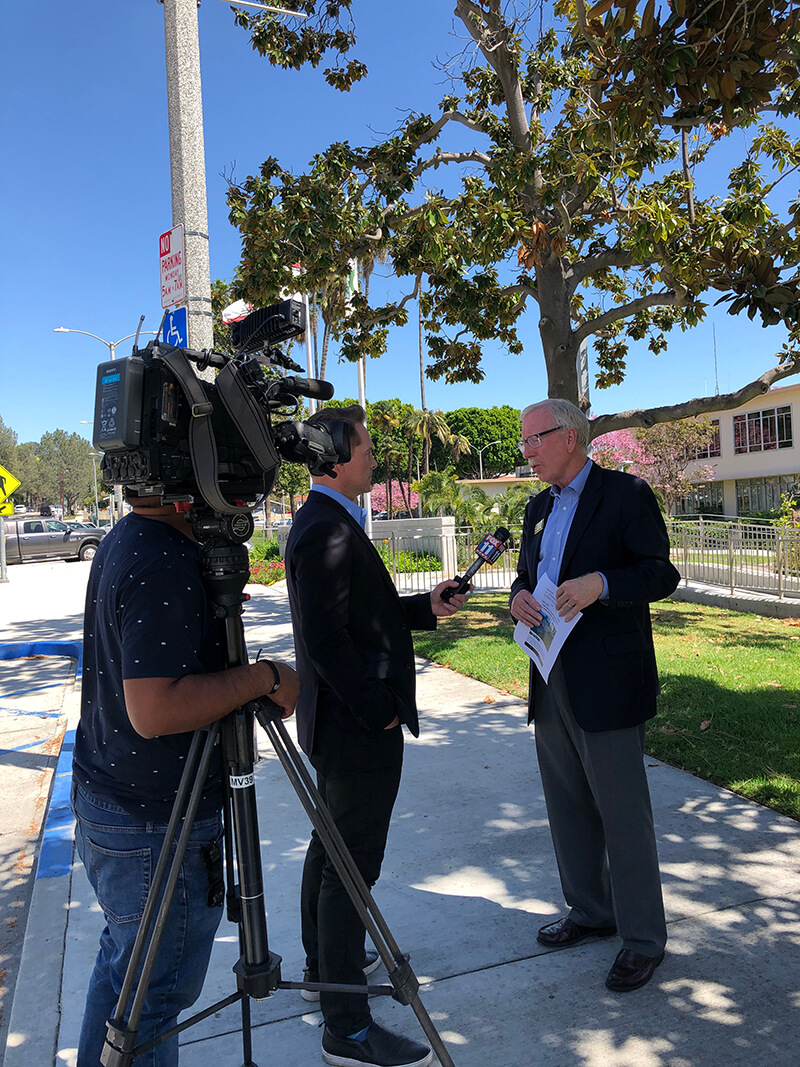 Whittier Homelessness:  When it comes to homelessness in California, cities and counties throughout the state are busy mopping up the deluge. And as we have seen in our town, Whittier is not immune. We need help from Sacramento to address the source of the leak.
California has the highest number of people experiencing homelessness in the nation. Communities, cities, and counties are working hard to address the issue, but at the local level, we desperately need collaborative leadership at the state level to address the main issues that speak directly to the source of our homelessness crisis. Mental health, drug and substance abuse, housing costs and recent criminal "reforms" have all converged like a perfect storm to create the explosion of homelessness we are facing. These are state-level issues that cry out for state-level resolutions in a coordinated manner. If not, the only sad option is to continue mopping up water without fixing the leak.
Before this year, Whittier had seen a 44% reduction in our homeless population by headcount since 2015.  But in 2019, we saw our first uptick, along with the rest of Los Angeles County. The percentage of our neighbors experiencing homelessness per population is fewer than half the Los Angeles County average. This is not by accident. Residents here formed the Whittier Consortium on Homelessness designed to bring various sectors of our community together to discuss collaborative and mutually beneficial solutions to homelessness. The Consortium launched "Imagine Whittier," a mentorship program that in its first year has seen 100 percent of families recovering from homelessness maintain their housing. Last year our local nonprofit, The Whole Child, housed 244 families in the region. We opened a new shelter at the Salvation Army for women and children, established a MHET team (Mental Health Evaluation Team) through the Whittier Police Department and L.A. County Department of Mental Health, initiated a veteran's resource center at our Whittier Public Library, created a comprehensive City of Whittier Homelessness Plan. And we are looking to establish a mobile shower program and a Jobs Readiness program in Whittier. Our city staff, county partners, non-profits, service providers, faith community, business, health, and education sectors have all come together to address our homeless challenges head-on through collaboration, and we are seeing promising results. Yet even with all the success, we have seen in Whittier, the problem of homelessness still looms large…
We are doing nearly everything we can do locally, but are not able to address the source of the leak, the root cause. Many people are not in the capacity, nor have the ability, to receive help due to severe mental health illness and/or addiction issues. Instead, they are being left on our streets to suffer. This status quo is the opposite of a compassionate response. People desperately need access to treatment. Service-resistant individuals have been fueled by the federal Ninth Circuit Court of Appeals decision in Martin v. City of Boise that has tied our hands and has contributed to an increase in tent cities throughout California (Recently the US Supreme Court decided to not take the Boise appeal, thus, for now, the 9th Circuit decision stands). To provide a bed for each homeless person located in Whittier (whether from Whittier or not) is cost-prohibitive and just not feasible. This is a federal mandate without any reimbursement for that mandate.
In Whittier, we were fortunate that a collaborative effort between state and local government resulted in the clearing of Parnell Park and the Whittier Boulevard greenbelt and moved many of the homeless into temporary shelters where service organizations can better tend to their individual needs. But the Parnell Park encampment is back.  Through local, voter-approved Measure H, the county has committed $3.5 billion over 10 years to address the homeless crisis. And Whittier is working closely with Supervisor Janice Hahn, who is helping to provide regional support on the issue. But even Measure H and the County's Homeless Initiative is not able to truly address the root causes of homelessness in California. And recently California received the announcement from the Governor that he has convened a special task force on homelessness and is prepared to pour $1 billion into the task. It is really good news that the State is finally focusing attention on the problem. But it is not enough to just spend money. We need to get to these root causes of homelessness.
On behalf of those working to find solutions to homelessness at the local level, the Whittier community, City of Whittier, and Los Angeles County, we need a productive conversation and agreement with state leaders to address the sources of the leak. Until the root causes of homelessness in California - mental health, drug and substance abuse, housing costs and recent criminal "reforms" - are addressed at the state level, local cities will continually be forced to mop up the leak. We need to work together to fix the leak for all Californians ... at the root level. Be assured that until we have State help, we will continue to work on finding housing for our homeless who desire a bed but we cannot, and will not, allow our parks to be overrun in such a way that our taxpaying residents and their children are unable to use those parks.
It's Been An Honor To Be The First Directly Elected Mayor
Being the first in any position is an enormous responsibility. My goal as the new Mayor was to create an environment where everyone in Whittier would feel they had access and support from this new office…where the interests of the entire community were addressed. It's now the only office on the Council that truly has the responsibility for every neighborhood in the City. Weaving together all the diverse interests in this city has been both challenging and rewarding. Together we have made great progress. It is my strong desire to continue that success and establish high standards for future Mayors.
The Change Has Not Been Easy
It might be premature to declare the change a complete success, but as your Mayor, I have worked diligently and collaboratively with the Council to keep the city on-track during the transition over the last three years. Priorities are changing as we shift to districts but we have worked together to keep the budget balanced, maintain quality city services and make important plans for our future while still keeping the Whittier values and traditions that we have all come to expect.
We Have Made Great Progress
When I ran for Mayor four years ago, I made clear commitments. I promised that we would continue to make public safety our first priority. I pledged to expand jobs, create a business-friendly environment, to live in Whittier, work in Whittier, shop in Whittier. I vowed to maintain our Whittier values of respect, responsibility and caring. So how have we done?
The Groves of Whittier (formally Nelles) construction is well underway. I am pleased to report that substantial progress has been and is being made. Construction permits were taken out and the initial model homes are now under construction. Those of you who have driven by will note that much of the earth moving has been completed and the streets have been paved. Importantly, portions of the property were sold to the apartment builder and to the developer of the commercial/retail. I am excited that they are now in the lease-up phase and In-N-Out, Raising Cane's, a state-of-the-art Stater Bros. and LA Fitness and others, have already joined up. And I am pleased to report that we have had discussions with Optimus, an autonomous vehicle company looking at ways to use AV vehicles at the Groves and PIH. We are also working with a consultant on doing a master people mover plan for Whittier. As I indicated, lots of progress!
The Uptown Whittier Property Owners are actively keeping Uptown cleaner and the streets more friendly with new businesses now opening in Uptown. The Business Improvement District with City support including a much-needed parking structure is making parking and safety improvements to our central core. We have added $2.5 million to our police budget, adding more officers, canines, new radios and bait boxes to catch front porch package thieves. I have met with many neighborhood watch groups and am committed to expanding our neighborhood watch program. And I will continue the push to reduce the "early release" of prison inmates, by actively supporting the November 2020 initiative "Keep California Safe". Many homeless families and individuals have been helped with Measure H dollars, but the service resistant continue to be a major concern for me. We are actively working with our regional partners on solutions to provide more beds and provide drug/alcohol/mental health help. But our parks cannot become a campground for those who won't take those services thereby depriving our kids and families use of those parks.
We Have Much More To Do.